Advanced Ordering Support
Advanced Ordering Support™
The clarity of orders in the kitchen is essential. Precious time can be wasted if the kitchen staff has to read too much to fill out an order. More text also means more chance for errors.
Scenario 1
With Advanced Ordering Support similar items for a single table are first grouped by the item and then consolidated by modifiers. If an item is ordered without any modifications (i.e. follows standard preparation methods), then no additional text will be printed.
All three clients at a table order a "Club Sandwich".
(Please see Forced Modifiers™ for details)
The 1st client orders a half club sandwich, white meat only, no bread preference.
The 2nd client orders a club sandwich, no meat or bread preference. → (standard)*
The 3rd client orders a club sandwich, dark meat only, on rye bread, extra mayo.
The following text is what will be printed at the kitchen workstation.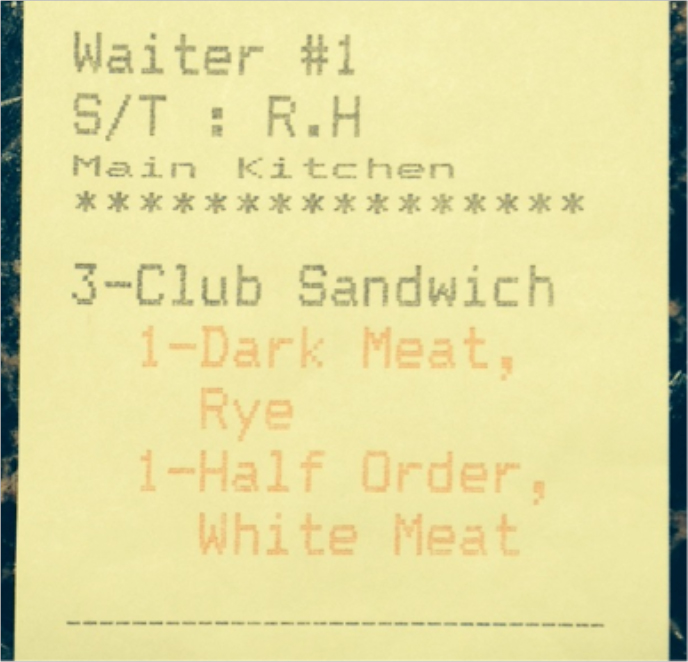 * The standard Club Sandwich does not require any instructions. The Optional Modifiers are only required for the other sandwiches.
Scenario 2
Depending on how your plates are ordered and prepared, different ingredients on the same plate may need to be prepared in different areas of the kitchen. This is usually the case when side orders are placed using Forced Modifiers. With the Advanced Ordering Support, you are able to set different printer destinations for each Forced Modifier. Even multiple printer destinations are supported!
Consider a case in which a Cheeseburger is ordered with Side Lasagna. In your restaurant, the Side Lasagna is baked in its own dish which is then placed on the same plate as the Cheeseburger.
In this case, the Side Lasagna would be selected using a Forced Modifier, and not as a side order. But in your kitchen, the Cheeseburger is prepared at the Chef workstation, whereas the Side Lasagna is prepared at the Pizza/Pasta workstation.
In addition to the entire order printing at the Cheeseburger's default workstation, with Advanced Ordering Support, you would have the ability to set the Side Lasagna Forced Modifier to also be printed at the Pizza/Pasta workstation.
Scenario 3
When an order is placed in a large kitchen with multiple preparation areas (e.g. Chef, Pizza, Salad etc.), normally all items will print at the main Chef's printer for preparation and control purposes. Other preparation areas may receive a subset of this order so that they can make the requested items, but they will not see the entire picture.
With the Advanced Ordering Support, condensed summaries of the remaining items can be printed on the bottom of the same work order. This allows order control to be decentralized and distributed within the same kitchen allowing your staff to work dependently with each other.
Presto POS can be configured to work the way you want!